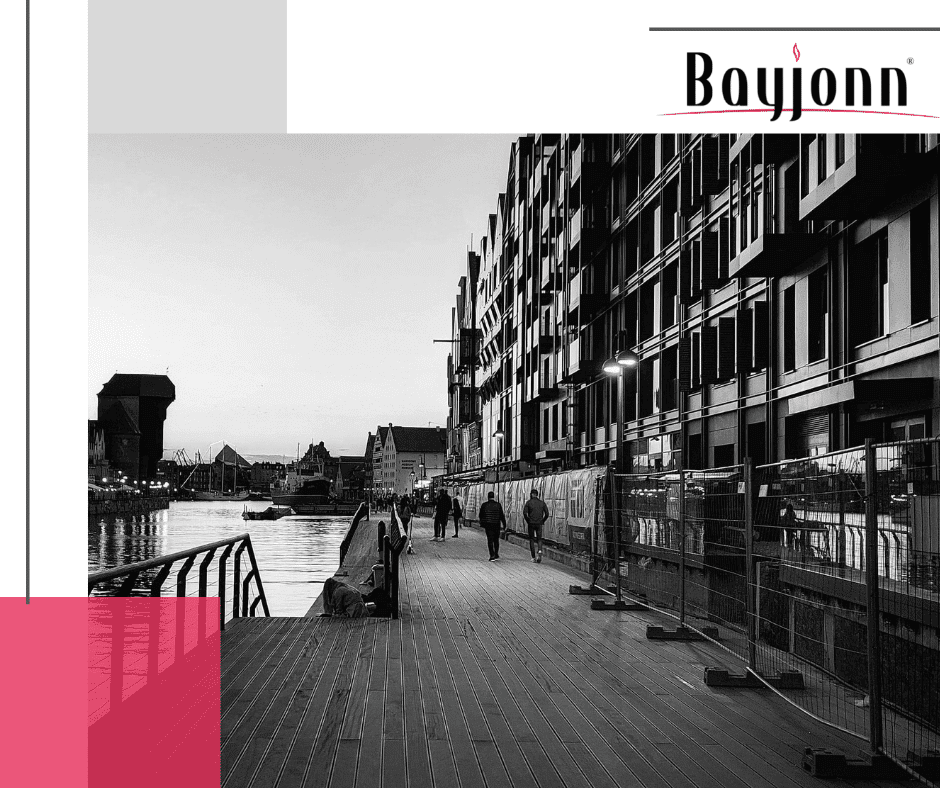 A trip to Gdańsk from the Bayjonn Hotel
Explore Gdańsk: A Memorable Trip from the Bayjonn Hotel in Sopot
While staying at the luxurious Bayjonn Hotel in Sopot, you have the perfect opportunity to embark on an unforgettable day trip to the historic city of Gdańsk. Located just a short distance away, Gdańsk is a treasure trove of history, culture, and maritime heritage waiting to be discovered. Here's what you can experience during your trip:
1. Old Town (Stare Miasto)
Gdańsk's Old Town is a picturesque area filled with beautifully preserved medieval architecture. Wander through cobblestone streets, admire colorful facades, and visit historic sites such as the iconic Gothic-style St. Mary's Church (Bazylika Mariacka).
2. The Gdańsk Crane (Żuraw)
The Gdańsk Crane, a symbol of the city's maritime history, is a must-see attraction.
3. Long Market (Długi Targ)
The Long Market is the central square of Gdańsk's Old Town and is lined with beautiful townhouses, restaurants, and shops. It's the ideal place to savor traditional Polish cuisine or shop for souvenirs.
4. Neptune's Fountain (Fontanna Neptuna)
Marvel at the grand Neptune's Fountain, an impressive statue that stands proudly in the heart of Gdańsk. This 17th-century bronze masterpiece is a symbol of the city's maritime heritage.
5. Westerplatte
For history enthusiasts, a visit to Westerplatte is a must. This historic site was the location of the first battle of World War II, and you can explore the monument, museum, and remnants of fortifications.
6. European Solidarity Centre (Europejskie Centrum Solidarności)
Gain insight into Poland's struggle for freedom and democracy by visiting the European Solidarity Centre. It's an engaging museum that pays tribute to the Solidarity movement and its role in Polish history.
7. Amber Museum (Muzeum Bursztynu)
Gdańsk is renowned for its amber, and the Amber Museum offers a fascinating journey into the world of this precious gemstone. Discover the history, geology, and craftsmanship of amber in this unique museum.
8. Gdańsk Shipyard (Stocznia Gdańska)
Visit the Gdańsk Shipyard, famous for the Solidarity strikes led by Lech Wałęsa. The shipyard played a pivotal role in Poland's history, and you can explore its history and significance.
9. Motława River
Enjoy a leisurely stroll along the picturesque Motława River, where you can watch ships passing by, dine at waterfront restaurants, and take in the charming atmosphere.
10. Evening in Gdańsk
As the day turns into night, Gdańsk comes alive with a vibrant nightlife scene. Explore the city's bars, clubs, and cultural venues for an evening of entertainment and relaxation.
Your Gdańsk Adventure Awaits
A day trip to Gdańsk from the Bayjonn Hotel in Sopot offers an enriching cultural experience and a chance to explore the city's historical treasures. Whether you're interested in history, culture, or simply enjoying the atmosphere of a new city, Gdańsk has it all.
Embark on Your Gdańsk Journey Now
Your memorable journey to Gdańsk begins here. Plan your day trip from the Bayjonn Hotel in Sopot, and discover the enchanting city of Gdańsk.